Mini One Weight RA Wall Regulator
Mini One Weight RA Wall Regulator
By ProClocks
$495.00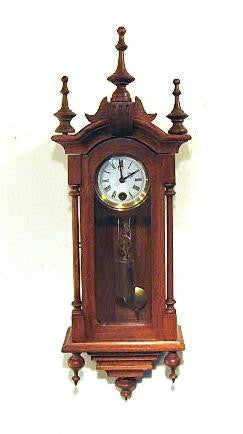 This Wall Regulator is very interesting for its size and design. It is an RA one weight wall regulator, which is assisted with a spring. When you wind the clock, it winds both the small weight and the mainspring in the movement, enabling it to run one day on a winding. The clock is 25 inches long and 8 inches wide, with a small 2 inch roman numeral porcelain dial. It has side glass panels and full columns on the front door. The finials on the clock really add to its overall appearance.
Free Shipping and Insurance for all sales within the Contiguous USA
----------------------------------------------------------------------------------------------
**FOR INTERNATIONAL BUYER**
The Shipping Charge for this item is $190. 
After adding this item to the shopping cart please add the shipping charge in order to complete your purchase.

Click the "Add Shipping Charge" link above to go to the page where you will be able to add it to your shopping cart.

NOTE: Your order will not be fulfilled without this addition.
Please contact us directly at bob@proclocks.com if you have questions.
ProClocks Experience

With 42 years experience in the field of Horology, ProClocks will give you professional service in selling, repairing, and all other horological needs. Try us and see.

Free Shipping & Insurance

Receive free shipping and insurance on all clocks purchased within the contiguous USA. International shipping is through fast air UPS or Express Mail.

Fast And Reliable Shipping

ProClocks ships our clocks normally within 24 hours of receiving your order. Each clock is professionally packed by one of our three professional packers to arrive safe and sound.

Satisfaction Guaranteed

Each clock is produced by the highest standards in the industry. It is inspected before being shipped to our ProClocks warehouse in Cincinnati and again before shipping to you.