54" Trumpeter Cuckoo Clock-Hunting Scene
54" Trumpeter Cuckoo Clock-Hunting Scene
By ProClocks
$1,575.00
Sorry, this product is currently unavailable.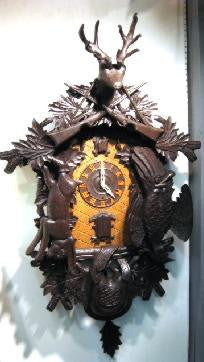 Trumpeter Cuckoo Clock  It is hand carved with deep wood carvings throughout, which runs eight days. It measures 44 inches to the bottom of the case and 54 inches from the top of the horns to the pendulum, and is 30 inches wide.  It is a 3 winder spring driven movement--no pulling of weights.  It has the traditional hunting scene with the heavy hand carved rabbit and pheasant on the sides of the case, with a stag on the top.  It cuckoos every quarter hour, and then after cuckooing on the hour, the trumpeter comes out and trumpets his horn the appropriate hours.  Clock shops will have a price tag of over $5,000 on a nicely carved example like this one. Get a cuckoo clock you will enjoy having and showing to your firends. We have a limited production of only 10 pieces worldwide.
Free Shipping and Insurance for all sales within the Contiguous USA
----------------------------------------------------------------------------------------------
**FOR INTERNATIONAL BUYER**
The Shipping Charge for this item is $425. 
After adding this item to the shopping cart please add the shipping charge in order to complete your purchase.

Click the "Add Shipping Charge" link above to go to the page where you will be able to add it to your shopping cart.

NOTE: Your order will not be fulfilled without this addition.
Please contact us directly at bob@proclocks.com if you have questions.
ProClocks Experience

With 42 years experience in the field of Horology, ProClocks will give you professional service in selling, repairing, and all other horological needs. Try us and see.

Free Shipping & Insurance

Receive free shipping and insurance on all clocks purchased within the contiguous USA. International shipping is through fast air UPS or Express Mail.

Fast And Reliable Shipping

ProClocks ships our clocks normally within 24 hours of receiving your order. Each clock is professionally packed by one of our three professional packers to arrive safe and sound.

Satisfaction Guaranteed

Each clock is produced by the highest standards in the industry. It is inspected before being shipped to our ProClocks warehouse in Cincinnati and again before shipping to you.